Academy for Change
Academy for Change (AFC) is the community day school serving Chico Unified School District. AFC enrolls students in the following categories:
Expulsion from another school
Probation referral
Student Attendance Review Board (SARB) referral
Other special program
If you have questions about our program, or whether or not your student would be appropriately placed here, please contact the principal's office at 891-3092, ext. 100.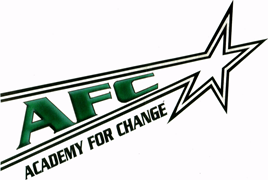 Mission Statement
Academy for Change

Reconnecting Students
with their
Educational Responsibility
and Future